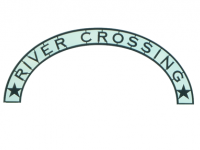 River Crossing in Spring Branch is a beautiful, little community located just minutes away from Canyon Lake. It has a prime location on the banks of the Guadalupe River. Inside the community, you will find a world class golf course and over 1,000 different home sites of various sizes, each with a minimum lot size of one acre. The community truly encompasses the Texas lifestyle, and you will find native, Texas plants throughout the landscaping. Enjoy the serenity of the Hill Country, while embracing the peacefulness of the open, Texas sky.
Amenities
Amenities are certainly not an area in which River Crossing is lacking. A pool, clubhouse, grill, and basketball courts are just the beginning. There are also many perks for building a custom home in the River Crossing community. If you are looking at building with Mitchell Custom Homes, then River Crossing is definitely a community that you need to check out.
Golf Course
One amenity for which River Crossing in Spring Branch is known is its golf course and club. River Crossing Club is a premiere Hill Country golf course that is extremely well maintained and offers breathtaking views of the surrounding Texas countryside. It is also the perfect blend of challenge and enjoyment, making it ideal for various levels of golfers. It was recently voted as one of the most well maintained golf courses in Central Texas. The on site clubhouse includes locker rooms, a golf shop, grill and bar, and a conference room.
Activities
Not only is River Crossing a short drive from beautiful Canyon Lake, it also has the slow moving Guadalupe River running through its doors. For younger ones, you will find a small playground area. If your family loves to stay active, then check out the community's tennis and basketball courts, where you can get in a workout or your kids can work on their competition skills. There is also a fully equipped fitness center that includes classes such as pilates, yoga, zumba, and water aerobics.
If you are looking for more laid activities, there are various hiking trails located throughout River Crossing. Stop and have a picnic at any of the tables located along the walking trails. After hitting the trails, cool off at the River Crossing pool, while having a meal from the poolside food and drink bar. The pool area includes a changing room and full bathroom.
Private River Access
One of the main amenities provided by River Crossing is private, Guadalupe River access. There is also a private, gated park that is only for River Crossing residents. This way, you do not have to face the tourists and crowds during peak river season. Instead, spend your days on River Crossing's own, private beach.
For more information on building a residence by Mitchell Custom Homes in River Crossing, fill out our online contact form and we will be in touch with you soon.