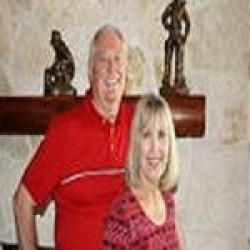 My wife, Cindy and I learned of Mystic Shores by reviewing hill country property for sale on the internet. We fell in love with the spectacular views and with all of the neighborhood amenities. We purchased a lot and now needed to find just the right builder and designer to create our dream home. We soon met Travis Mitchell and began to discuss our design ideas with him. Over the next two years, until we were ready to move, we continued to communicate with Travis. One of the things that we appreciated the about him was that he never tried to pressure us to build by a certain time. He was ready to submit a price quote and to begin construction when we were ready.
We were now about to begin to meet the Dream Team. Perhaps the strongest aspect of Mitchell Custom Homes is the group of professionals that Travis has assembled. The team consists of Travis, Peggy Sampson, Terri Western and a group of the finest sub-contractors that you could hope to find. Peggy, a designer of custom homes, takes your ideas and creates an absolute work of art, all with patience and professionalism. Terri becomes involved with the many interior and exterior decorating choices to be made. She is an invaluable asset. Travis oversees the entire design process and then rolls all of the choices made into a firm price quote.
Travis works closely with each sub-contractor to hold down labor and material costs without sacrificing quality. This enables him to offer fair and very competitive pricing. We found Travis to be a true hands-on professional. We were impressed with his constant attention to detail, his work being performed by the various crafts, his promise to always maintain a clean job-site and much more. Travis kept us in the loop throughout the construction and frequently sent pictures of the progress being made. Changes that we initiated to the original design were addressed promptly and he never lost patience with our requests.
Travis has an excellent rapport with the Mystic Shores building committee and the Property Owners Association staff. This really comes in handy when it's time to submit the site-plan drawings and the blueprints for approval. He is highly respected by the sub-contractors that he employs. They work harder for him because they know that he expects and will accept nothing but their finest efforts.
Travis completed our home earlier than promised date and now stands ready to address any warranty issues should they occur. We highly recommend that others allow Mitchell Custom Homes to become their custom builder. He is good to his word and that means a lot when you embark upon a project of this magnitude.
In summary, we came to Mystic Shores in search of a quality builder to construct our dream home, what we received was a beautiful Mitchell Custom Home and a new friend.