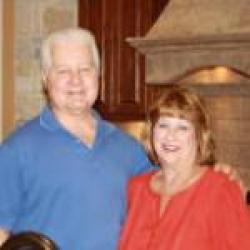 Connie and I would like to thank you for great job you did on the construction of our new home. This was our third time to build a custom home and without a doubt the best experience we had of the three. The previous builders did a good job but we can not be happier we selected you to build this house and the great home you built us.
We can't say enough about the professional and personal way you handle the entire process. Really appreciated the fact you kept us informed of every aspect of the construction and willingness to work with us on minor changes as the house was being built. Even the other residents already living around our home had nothing but positive comments to us about the professional way you and the subcontractors handle the entire construction process.
A sincere thanks to the all involved in this project. Starting with Kimberly Mockert with KM Designs for the house plan. Teri Western for assistance and guidance in the selection of carpet, tile, and paint colors, etc. Victor Traina for the tile / carpet work. The Cabinet Shop of New Braunfels and especially to you Travis for your attention to detail.
Without reservation, we would recommend Travis Mitchell Custom Homes to anyone considering building a quality custom home you want done right, on time and on budget.
Thanks Travis for building us a Great Home!