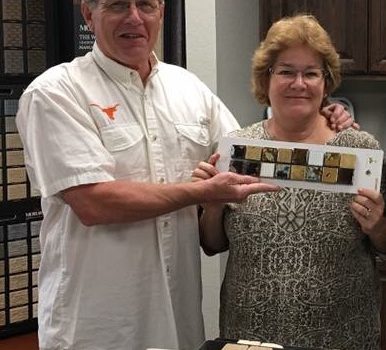 We contracted with Mitchell Custom Homes to build our home in Mystic Shores. We really liked the fact the bid was all-inclusive. We picked out interior fixtures, tile, granite, rugs, appliances, doors, etc. Everything was included, so when the house was done, it was ready for move in.
First, we toured a number of homes completed by Mitchell Custom Homes with the builder, Travis Mitchell, the architect, Peggy Sampson and the home designer, Donna Mitchell. We were amazed at the plans Peggy drew up for our home based on discussions during the tour. She was easy to work with and we are more than satisfied with the quality of her work.
Next, we worked with Donna Mitchell to pick out the interior choices. They work with local reputable companies and the process was very thorough. We selected what we wanted with no limit on options, like some builders do. Donna was very good about keeping us in line with our budget as well as keeping our style consistent. She was especially good about making sure we both were happy with our choices.
Finally, watching the house go up and seeing how important quality of work is to Travis Mitchell was very comforting. He can be quite picky at times, but that is a good thing. We were able to make a few changes during the process with no problems whatsoever. The house was completed on time and on budget. We recommend Mitchell Custom Homes to anyone who is building their home.
Janet and Don Jackson
1048 Star Ridge
Mystic Shores